by Athena#2444, Cyn#0962 & Erk_kimbo#2028
Updated for Version 3.8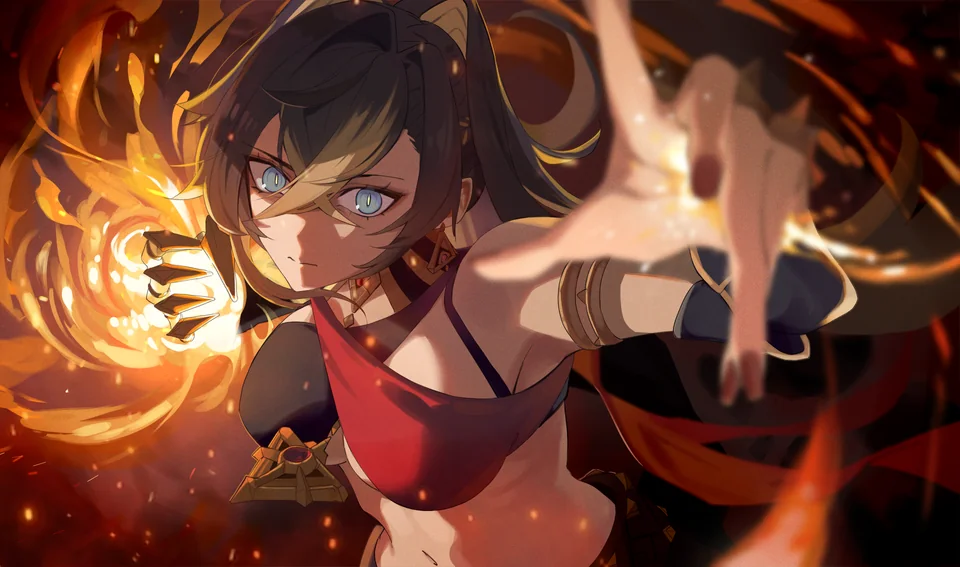 My name's Dehya. I'm the merc you hired. So what you got for me? A commission? A fight? Armed escort? Whatever it is — you know where to find me.
Introduction
This guide will review Dehya's best weapons, artifact sets, teams, Talent priority, combos, preferred artifact stats, and more!
Dehya is a 5-star Pyro Claymore character who was released in Version 3.5. While her release was not without controversy, Dehya's unique blend of on-field capabilities and off-field utility still presents a useful tool for appreciators of the aptly named Flame-Mane.
Glossary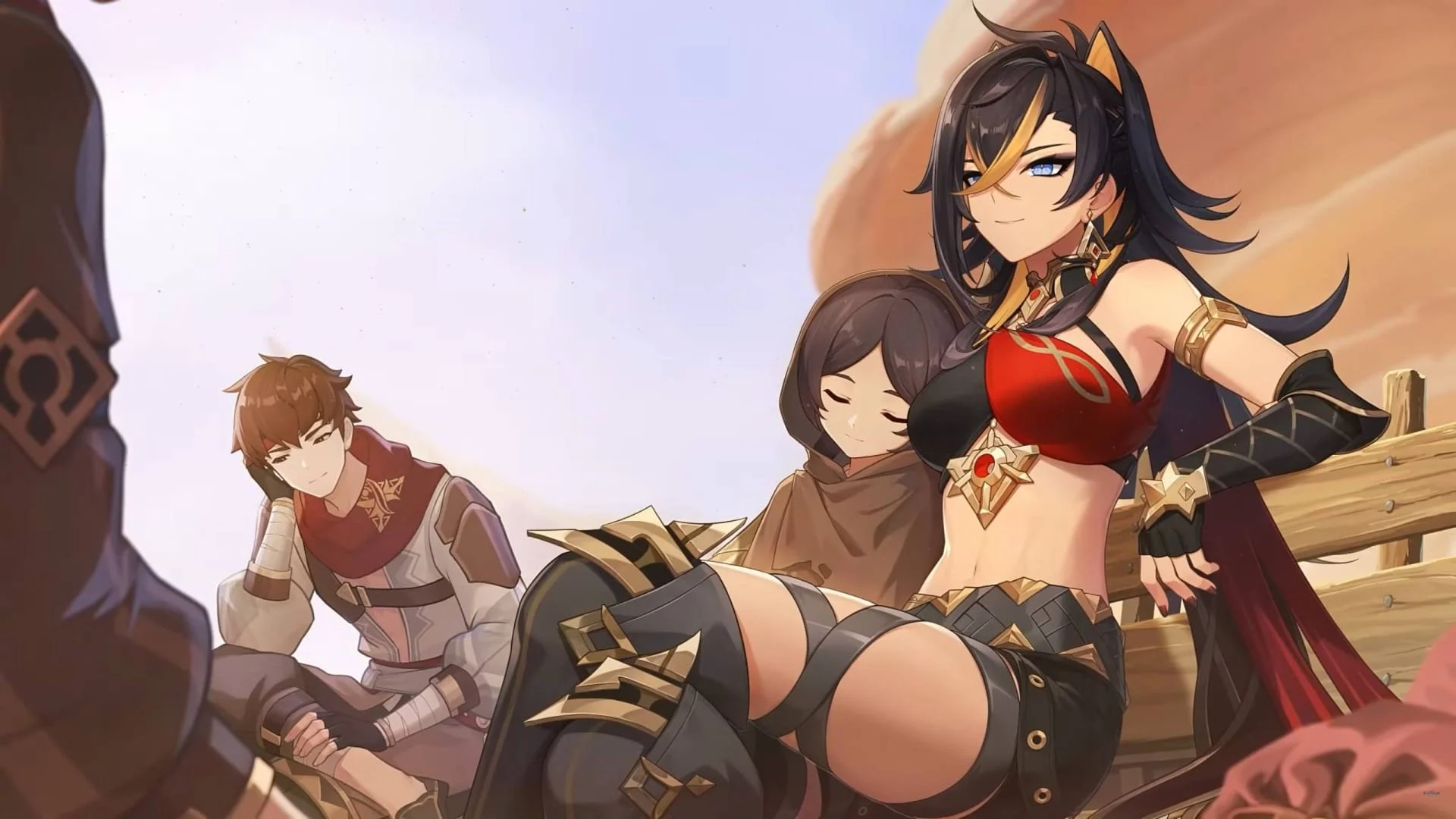 "Stay close, no going off on your own. The desert doesn't take prisoners."
Why Play Dehya?
Pros
Provides a unique damage mitigation mechanic alongside interruption resistance to improve the whole team's survivability
Has a variety of playstyles including on-field, off-field, and hybrid options
Her off-field Pyro application enables certain teams and playstyles
Self-sustain helps her stay alive both on and off the field
Her Burst looks extremely cool
Cons
Only available on the Standard Banner following Version 3.6, so obtaining her and her Constellations is more difficult than most
Her lack of personal damage at C0 leads to an often underwhelming on-field experience
The slow rate of her off-field Pyro application means she may require help from other characters to enable reactions in certain teams
Her damage mitigation on its own is usually not enough survivability for the team, so a healer will still be necessary
In rare situations, the redirected damage from Dehya's Skill can outpace her self-heal, especially if she takes additional damage while on-field — causing her to die, even when Dehya is off-field.
FAQ and Common Misconceptions
Dehya is a character who has had her fair share of controversy upon release. There is still much to her kit that "does work," despite the large amount of valid complaints about "what doesn't." While Dehya's personal damage at C0 leaves a lot to be desired compared to other on-field DPS characters, she is still usable in both on-field and off-field team comps, both of which will be elaborated further in this guide.
At the end of the day, the decision to use a unit comes down to the individual player, and those who choose to play Dehya should find that, with proper guidance, she is still more than capable for not only general use but also in endgame content.
Do Dehya's HP scalings warrant building HP for damage?
At C0, when playing Dehya as an on-field DPS, it is not recommended to pursue HP over other stats (such as ER/CRIT/ATK). Her HP scalings are not high enough to warrant doing so, with ATK% increasing her Burst damage more than three times compared to the equivalent amount of HP%. At C1+, her HP scalings see a big boost, and subsequently HP becomes much more valuable. Mainstat and Substat prioritization will be further broken down in this guide.
It should be noted that for survivability and general support, building HP can still be valuable for C0 Dehya, as it improves both her own survivability and the amount of damage she can mitigate for her teammates.
TL;DR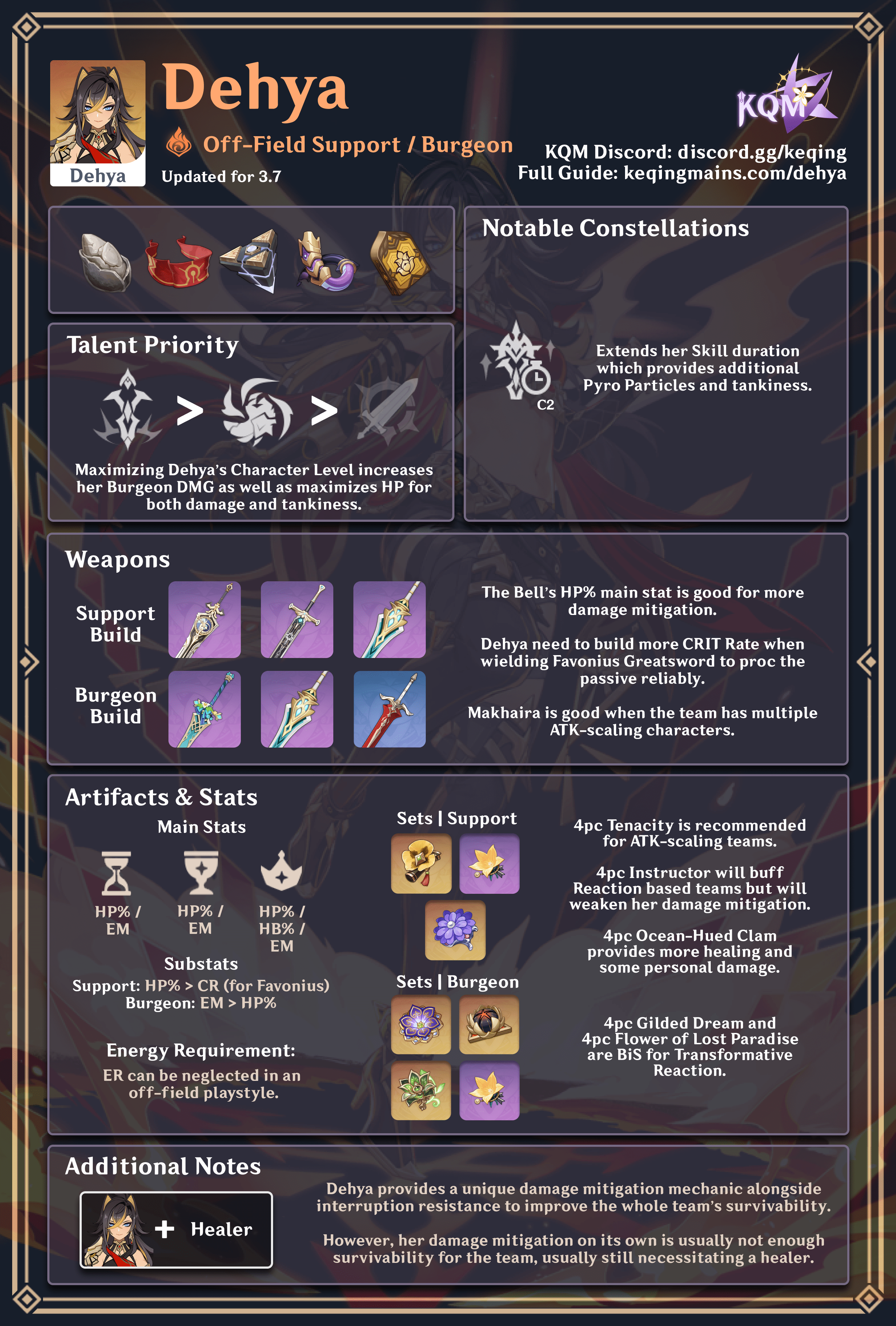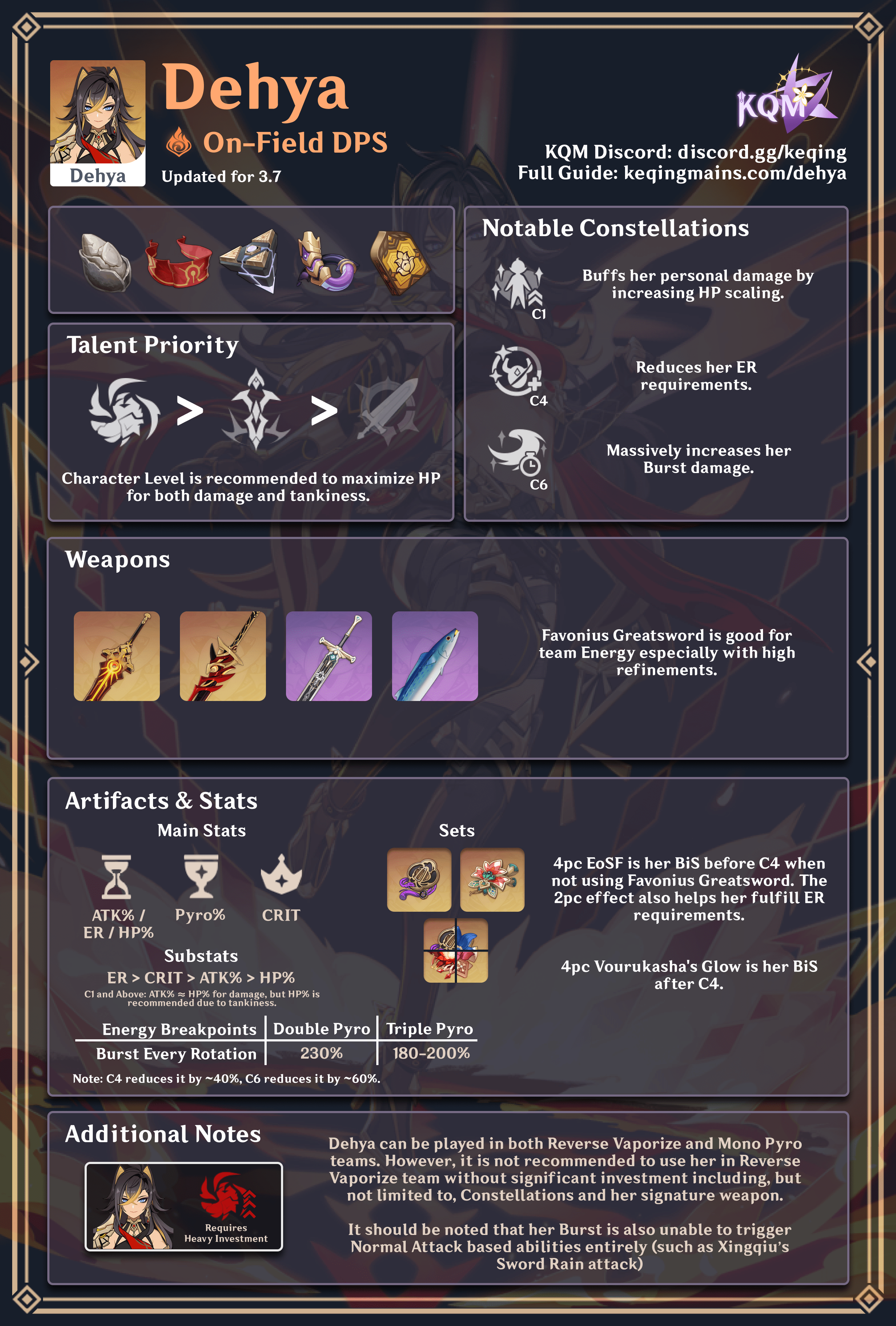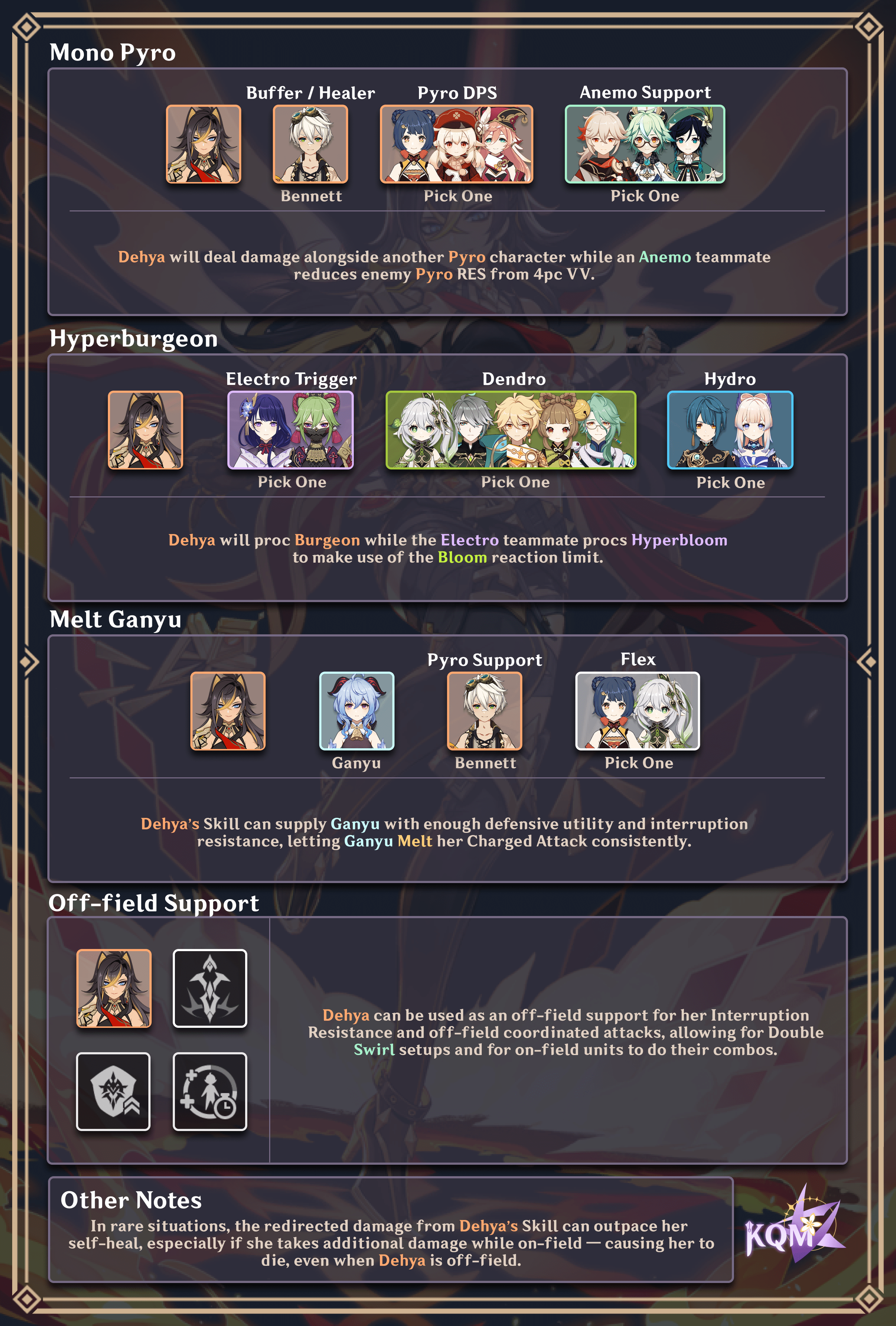 Talents
Level and Talent Priority
Off-field

≥

Skill ≥ Burst = Character Level
Since both Dehya's damage and defensive utility scale with her Max HP, it is recommended to level her to 90. When played as a Burgeon trigger, it is particularly important to level her as it provides a significant increase to reaction damage.
Dehya's Burst disables her Normal Attacks, making them unnecessary to level. Dehya's Skill does not contribute a significant portion of damage, and should mainly be leveled to increase her damage mitigation.
For Burgeon, Dehya's Skill is generally the only relevant part of her kit to level for the purpose of additional damage mitigation.
On-field

>

Burst > Skill ≥ Character Level
Talent Overview
Constellations
Most of Dehya's Constellations focus on increasing damage from her Burst by either increasing Talent levels or adding additional scalings and functionality.
Assumptions: KQMS, 4pc EoSF, C0, ER% or ATK%/Pyro%/CRIT, C6 Bennett 997 ATK, C6 Xiangling, 793EM Kazuha. Extensive analysis can be found in the Dehya mastersheet.
Constellation 1
Constellation 1 | The Flame Incandescent
Dehya's Max HP is increased by 20%, and she deals bonus DMG based on her Max HP when using the following attacks:
Molten Inferno's DMG will be increased by 3.6% of her Max HP.
Leonine Bite's DMG will be increased by 6% of her Max HP.
C1 gives Dehya a much-needed damage boost. This Constellation is a good stopping point for those who wish to play Dehya as an on-field carry. At C1, ATK% and HP% Sands are comparable (if you are not running ER% Sands), and the difference in damage between the two is determined mostly by substats.
---
DPS Increase from C0: 34.8%
Constellation 2
Constellation 2 | The Sand-Blades Glittering
When Dehya uses Molten Inferno: Ranging Flame, the duration of the recreated Fiery Sanctum field will be increased by 6s.
Additionally, when a Fiery Sanctum exists on the field, DMG dealt by its next coordinated attack will be increased by 50% when active character(s) within the Fiery Sanctum field are attacked.
While this Constellation might not be a big DPS increase at first glance, the bonus duration on her Skill is amazing for teams which use her as an off-field support, as it provides additional Pyro Particles and tankiness — resulting in less ER requirement for the whole team, especially Dehya. Do note that despite having a longer duration, it does not increase the duration of her Ascension 1 Passive. The bonus damage on her Skill is negligible and inconsistent, since it requires getting attacked to proc.
---
DPS Increase from C1: 19.76%
Total DPS Increase from C0: 62.02%
Constellation 3
Constellation 3 | A Rage Swift as Fire
Increases the Level of Leonine Bite by 3.
Maximum upgrade level is 15.
Nice increase to Dehya's damage output.
---
DPS Increase from C2: 9.14%
Total DPS Increase from C0: 76.83%
Constellation 4
Constellation 4 | An Oath Abiding
When Flame-Mane's Fist and Incineration Drive attacks unleashed during Leonine Bite hit opponents, they will restore 1.5 Energy for Dehya and 2.5% of her Max HP. This effect can be triggered once every 0.2s.
This Constellation reduces Dehya's ER needs by giving her Flat Energy during her Burst. It allows her to run ATK% or HP% Sands rather than ER% in most teams. Great quality of life Constellation, but doesn't truly shine until C6.
---
DPS Increase from C3: 3.92%
Total DPS Increase from C0: 83.76%
Constellation 5
Constellation 5 | The Alpha Unleashed
Increases the Level of Molten Inferno by 3.
Maximum upgrade level is 15.
Negligible DPS increase due to Dehya's damage output being tied to her Burst. Also increases a small amount of damage mitigation.
---
DPS Increase from C4: 4.0%
Total DPS Increase from C0: 91.12%
Constellation 6
Constellation 6 | The Burning Claws Cleaving
The CRIT Rate of Leonine Bite is increased by 10%.
Additionally, after a Flame-Mane's Fist attack hits an opponent and deals CRIT Hits during a single Blazing Lioness state, it will cause the CRIT DMG of Leonine Bite to increase by 15% for the rest of Blazing Lioness's duration and extend that duration by 0.5s. This effect can be triggered every 0.2s. The duration can be extended for a maximum of 2s and CRIT DMG can be increased by a maximum of 60% this way.
This Constellation is a massive DPS increase for Dehya. The number of stacks you can reliably obtain is tied to Dehya's CRIT Rate, therefore it is recommended to maximize the buff by prioritizing CRIT Rate over CRIT DMG until ~55% CRIT Rate (as her CRIT Rate increases by 10% from C6) to maximize the number of additional Leonine Bite (up to 5). At C6, Dehya can make full use of her fourth Constellation, lowering her ER requirements even further. For a small DPS increase, 4pc EoSF can now be swapped for 4pc Vourukasha or 4pc Lavawalker (if played in a Mono Pyro team).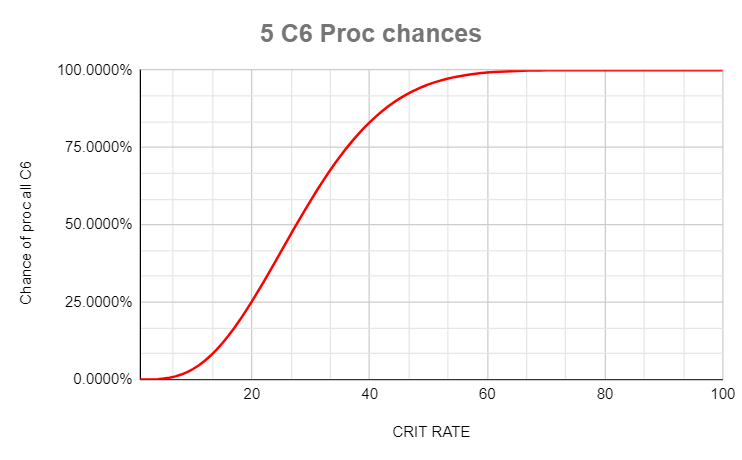 Chances of proccing all C6.
---
DPS Increase from C5: 55.40%
Total DPS Increase from C0: 196.99%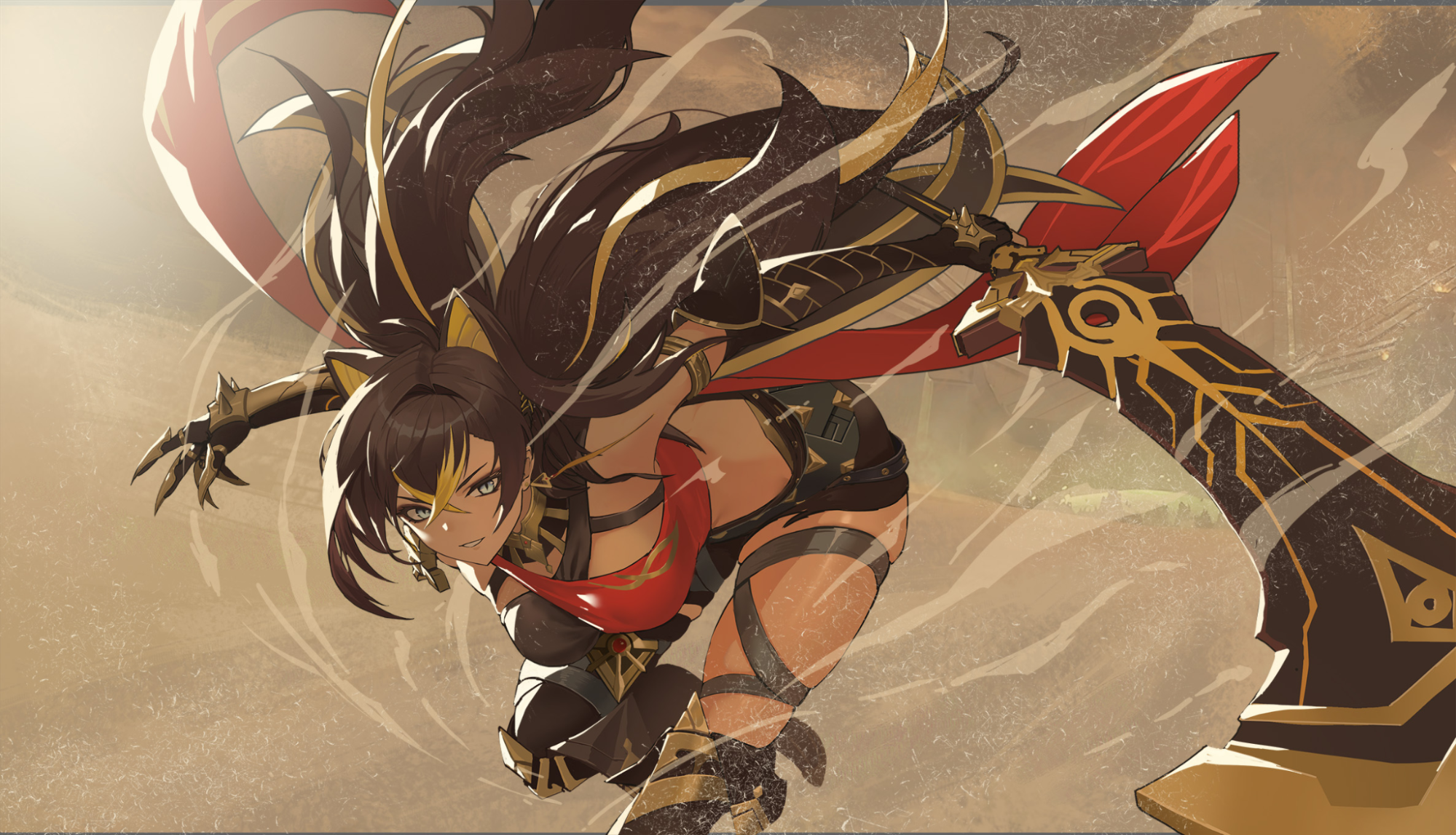 "Ah, sun's out, guns out, hehe… Just sucks that I got so much work to do."
Playstyles and Gearing
ER Requirements
On-field Dehya requires her to Burst every rotation; as a result, her ER requirements are tremendously high. The table below depicts the approximate thresholds for various situations. Use the Energy Recharge Calculator to determine exact requirements for any specific team and rotation.
| | |
| --- | --- |
| Scenario | ER Requirements |
| Double Pyro (w/ Bennett) | 230% |
| Triple Pyro | 180–200% |
Dehya's ER requirements are so high largely because her Elemental Skill cannot generate particles during her Burst state. As such, it is always recommended to run on-field Dehya with other Pyro characters who can provide her with additional Pyro Particles.
Each Favonius proc reduces her ER requirements by 10-30%. C4 can reduce Dehya's ER requirements by ~40% ER and up to ~60% ER at C6.
Burgeon and Support
Dehya should not use her Burst when she is played as a Burgeon trigger, meaning that she has no ER requirement.
Stat Priorities
Weapons
Artifacts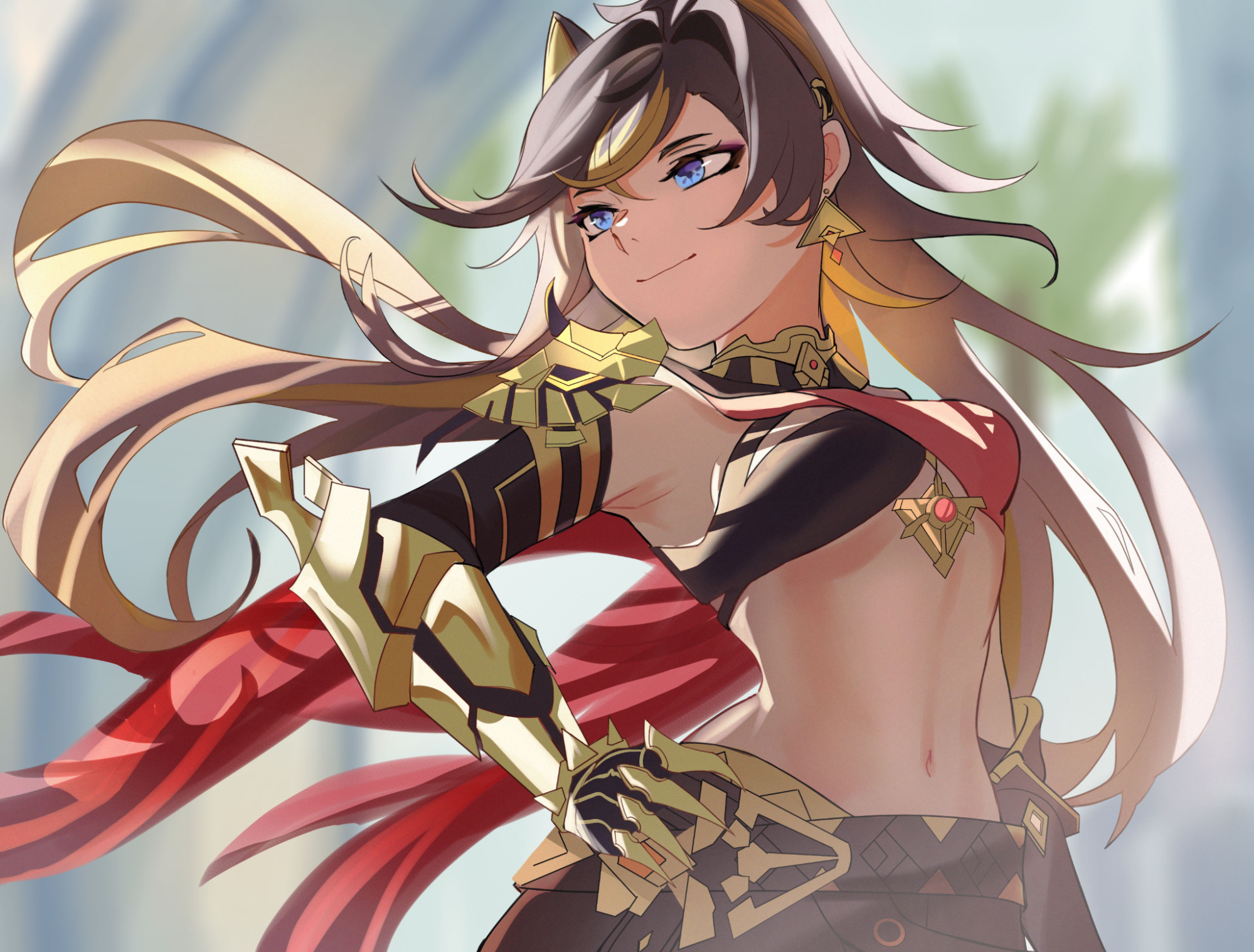 "Ready to roll? Good. Then let's pack up and move out."
Team Comps and Synergies
Mono Pyro
Reverse Melt (Melt Ganyu)
Hyperburgeon
Off-field Support
Vaporize Carry
Mono Pyro

Mono Pyro is a tried and tested team where Dehya can fit comfortably as an on-field DPS. This team provides more Pyro Particles than her other teams, which helps lower her high Energy requirements.
Bennett is vital in Mono Pyro teams as he provides Dehya and other DPS units with a large Flat ATK buff and additional Pyro Particles. An Anemo unit in the last slot is needed to provide Pyro RES Shred with 4pc VV, along with other buffs to boost the entire team's damage.

When Dehya is played as the on-field DPS, her rotations generally proceed as follows: Dehya's Skill is first cast to provide teammates with interruption resistance, Energy and damage mitigation. Then, buffs and debuffs are applied, namely Bennett's Flat ATK buff and 4pc VV's Pyro RES Shred. The abilities of any off-field DPS (such as Xiangling) are used, and the rotations end with a recast of Dehya's Skill and the use of her Burst.

Bennett
A requirement for Mono Pyro teams to function, Bennett provides a massive Flat ATK buff to the on-field character while also supplementing Dehya's defensive abilities with strong healing. His high particle generation and low Skill cooldown greatly contribute to lowering ER requirements across the board.

Xiangling
Xiangling is the best off-field DPS option for this team, as she can snapshot Bennett's Burst buff and provide a large amount of AoE Pyro DMG. She also benefits from the high amount of particles Mono Pyro teams generate, allowing her to focus less on ER and more on damage stats.

Her C1 provides useful Pyro RES shred through Guoba, while her C6 provides a nice Pyro DMG Bonus buff to other Pyro characters after she uses her Burst.

Klee / Hu Tao / Yoimiya
These options can take the primary on-field Pyro DPS role, letting Dehya focus on her off-field defensive utility.
Kazuha
The best Anemo unit for Mono Pyro teams is Kazuha, as he can provide his team with an Elemental DMG Bonus based on his Elemental Mastery via his A4 Passive.

Kazuha's strong grouping also contributes significantly to his value in Mono Pyro, allowing AoE abilities like Xiangling's Pyronado to hit multiple targets at a time.

His short cooldown on his Tap Elemental Skill allows rotations to be a bit more flexible as well, which is always appreciated.
Sucrose
Sucrose's buffing potential in Mono Pyro teams is quite limited. Characters in this team composition generally focus on dishing out raw damage rather than triggering an abundance of Elemental reactions — hence, Sucrose's EM buff is mostly wasted. However, Sucrose has access to TTDS, which gives the next on-fielder a 48% ATK buff and, at Sucrose's C6, the Elemental Absorption on her Burst can give the corresponding Element a 20% Elemental DMG Bonus.

Venti
Venti's grouping capabilities and Energy refund for all Pyro teammates are much appreciated, since he allows them to build more offensive stats and Burst more reliably. Note that for some smaller, lighter enemies, Dehya's Leonite Bite may miss if the enemies get sucked up too high.
Example Teams
Dehya — Bennett — Xiangling — Kazuha

Dehya E > Kazuha E hP Q > Bennett Q E > Xiangling Q E > Bennett N1 E > Dehya Q > Bennett N1 E > Dehya E N1
Reverse Melt (Melt Ganyu)

Melt Ganyu teams with Dehya primarily focus on Dehya's off-field defensive utility. Since Ganyu's main weakness in Melt teams is her vulnerability to interruption, Dehya's Skill can supply her with enough defensive utility and interruption resistance to justify her inclusion. Dehya is generally used as a 4pc Tenacity of the Millelith holder to boost the team's ATK.
Example Teams
Dehya — Ganyu — Bennett — Xiangling

Bennett Q E > Xiangling Q E > Dehya E > Ganyu E 5CA E > Bennett N1 E
Dehya — Ganyu — Bennett — Nahida

Nahida E Q > Bennett E Q > Dehya E N1 > Ganyu 6CA E
Hyperburgeon

Hyperburgeon teams use both Hyperbloom and Burgeon. Burgeon Dehya uses her coordinated attacks from her Elemental Skill to apply Pyro onto Dendro Cores. Enemies can only take at most 2 instances of Burgeon damage every 0.5s. Due to the long 2.5s intervals between each Pyro application from Dehya's Skill, it's possible to accumulate many unreacted Dendro Cores between her Skill procs. Triggering Burgeon on all of them at once with her next proc wastes many of them, since enemies will only take damage from 2. Having an Electro teammate to trigger Hyperbloom between Dehya's Skill procs allows for more reactions overall and, consequently, more damage.
Example Teams
Dehya — Xingqiu — Nahida — Kuki

Nahida E Q > Dehya E E > Xingqiu Q N1 E D > Kuki Q (if available) E N1 > Nahida Attack spam
Off-field Support
Dehya's interruption resistance and damage mitigation allow her to slot into a multitude of teams as an off-field support. Her Burst is usually entirely ignored for such teams, allowing Dehya to take up minimal field time by just casting her Elemental Skill.
Dehya provides easy Double Swirl setups for both Hu Tao and Yoimiya in their VV Vape team compositions, while also being usable as a general defensive support for Double Hydro teams. She can also be used for vulnerable characters who appreciate her interruption resistance, such as Wanderer, who additionally benefits from absorbing Pyro for his A1 Passive.
Example Teams
Dehya — Hu Tao — Yelan — Kazuha

Yelan Q N1 > Dehya N1 E > Kazuha Q E hP > Yelan E N1 > Hu Tao Combo > Kazuha hE hP N1
Yoimiya — Xingqiu — Yelan — Dehya

Xingqiu E Q > Yelan Q E > Dehya E > Yoimiya E 3N5 > Yelan E N2
Wanderer — Faruzan — Bennett — Dehya

Faruzan E CA Q > Bennet E Q > Dehya E E > Wanderer Combo
Vaporize Carry

Please note that playing Dehya as an on-field Vaporize carry is strongly discouraged without heavy investment into both Dehya and her supports (including, but not limited to, Constellations and signature weapons). Dehya should only be played in this team composition if a player is seeking a team that maximizes Dehya's personal damage for their own enjoyment. Without the high investment mentioned above, Dehya struggles to produce the damage required for the Spiral Abyss.

Dehya's Reverse Vaporize team focuses on boosting Dehya's Burst to provide the majority of the team's damage. Bennett is all but required due to his ability to provide a massive Flat ATK buff, healing, and Pyro Particles to lower Dehya's ER requirements. Both Mona and Kokomi can be used to provide the Hydro required to Vaporize Dehya's Burst hits, but the latter results in a larger damage loss in a team that already struggles. Kazuha and Sucrose function as buffers that also provide RES Shred through 4pc VV.
Units
| | |
| --- | --- |
| Bennett | Bennett's ability to buff another character's ATK is second to none. His ability to battery Dehya is especially important due to a lot of the team's damage coming from her Burst. |
| Mona | Mona not only buffs Dehya's damage via her Omen debuff but also allows Dehya to Vaporize a significant portion of her Burst. It should be noted that although Mona is the best Hydro option for enabling Dehya to Vaporize her Burst, it can be difficult to meet Mona's Energy requirements since she is the sole Hydro character on the team and her particle generation is subpar. As a Catalyst user, Mona can also hold Thrilling Tales of Dragon Slayers (TTDS) to further buff Dehya. |
| Kazuha | The premier Anemo unit when it comes to buffing Dehya's damage. Kazuha's buffing capacity and his ability to shred enemy RES with 4pc VV allows Dehya to substantially increase her damage. With the proper setups, Kazuha can also consistently absorb Hydro with his Burst to allow Dehya to more easily Vaporize her Burst damage. It's worth noting that Mona's Hydro application is enough for Dehya to Vaporize, so it isn't required to absorb Kazuha's Burst with Hydro. Using Kazuha's Burst when not necessary may interfere with the Hydro Aura, lower Bennett's buff duration, extend the rotation with more swaps, or make it more difficult to apply Mona's TTDS buff to Dehya. |
| Sucrose | An overall downgrade to Kazuha when building Vaporize Carry Dehya teams, but still a strong choice nonetheless. Sucrose's EM share provides a good amount of value here as Dehya is Vaporizing part of her Burst. Getting Sucrose's Burst to absorb the proper Element can be quite the headache with this team, so it isn't recommended to do so, especially since Mona is sufficient as a standalone Hydro applier for Dehya. |
Afterword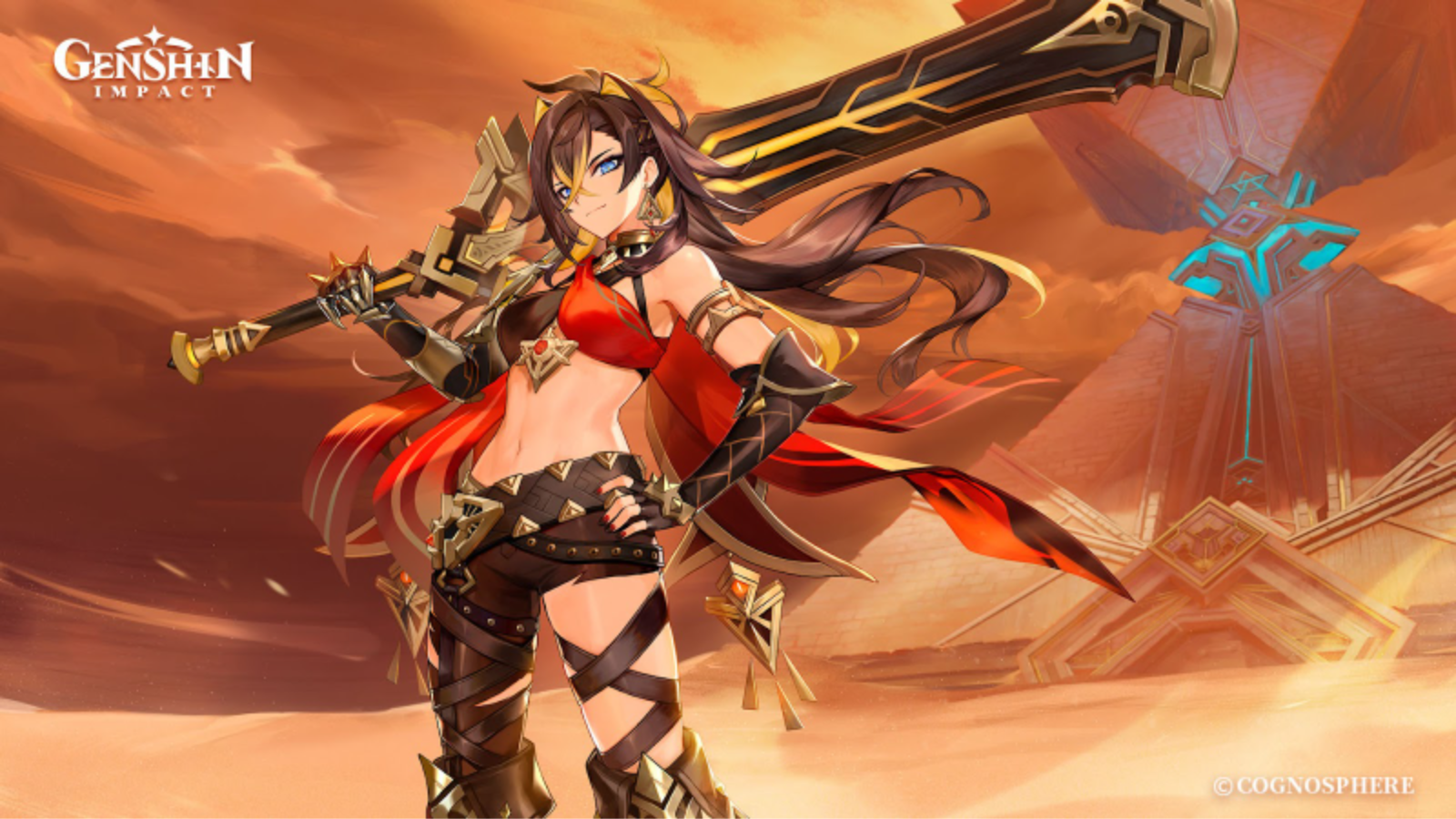 "I never once imagined I could get to this level... All credit goes to you. What next? Do you have a job for me? Whatever it is, just say the word and I'll be there."
Hopefully this Dehya guide has been enough to convince you to use her. You can find us in Keqing Mains server if you need an answer for any question. We will also keep updating the guide for new content, but for now, enjoy her to the fullest.
Credit
Authors:
.athene., cynematic, erk_kimbo#2028
Writing:
.athene., cynematic, .reimu., erk_kimbo#2028
Calculations:
.athene, Emiliabyss, NatC, Sew, snowscliped, erk_kimbo#2028
Editing:
reddraegon, sew, arbutus_unedo , cuppacote, idkanonymized, nociii
Infographic:
angtahimik
Trancription:
chasing_haze
Special Thanks:
crimson__, kolvii, rarepossum, chasing_haze, leah2212
References
Changelog
25/06/2023: Finish the 3.7 guide