Updated for Version 3.8
A Layla Guide
by Nikatosaurus#5639
I've heard of her, the famous 'Sleepwalking Eccentric.' The rumors about her sleepwalking are really quite absurd…
– Tighnari
Introduction
Layla is a Cryo Sword character released in Version 3.2. Her kit focuses on providing good shielding while applying consistent Cryo over the duration of her Skill and Burst. This guide will review Layla's best weapons, best artifact sets, best teams, Talent priority, mechanics, preferred artifact stats, and more!
While Layla works best in Cryo-focused teams, her strong shield and low cooldowns make her a versatile character for teams looking for defensive options. The sleepy scholar keeps your team alive and awake!
Why Play Layla?
…You wanna team up with me? No, no, it's not that I don't want to, I'm just not sure my crazy sleep schedule will really work for you…
TL;DR
Glossary
Combo Notation
Example Combo Notation
FAQ
Talents
Level and Talent Priority
Level =

>

>>>

Level = Skill > Burst >>> Normal Attack
It is recommended to raise Layla to Level 90 in all playstyles, as both her shield and personal damage scale with her HP. However, it is best to prioritize leveling characters who contribute more damage over Layla.
Constellations
Playstyles and Gearing
…Who's 'her'? Ah, well, a very weary Layla who's constantly stressed about her schoolwork, of course. …And me? Hehe, I'm Layla too.
ER Requirements
Layla's second Constellation lowers her ER requirements by 30-60%, depending on the number of Shooting Stars fired. With Favonius weapons, her ER requirements decrease by around 15% for each passive proc.
Though Layla can theoretically have near-100% uptime on her Skill and Burst, attempting 12s or 15s rotations is unfeasible with most teammates. In teams that operate in 24s rotations where Layla Bursts every 12s, her ER should account for the half of the rotation with lower Energy generation.
For an accurate estimate of her ER requirements based on your specific team and gear, use Zakharov's Energy Recharge Calculator.
Artifact Stats
Main Stats
Substat Priority
Pure Shielder
ER% until requirement > HP% > CRIT Rate (w/ Favonius) > Flat HP

Off-field DPS
ER% until requirement > CRIT ≥ HP% > Flat HP
HP% is a valuable stat for all of Layla's builds, as both her shielding and damage scale with her HP; the value of HP% also increases due to the rarity of HP% buffs compared to other stats. In an off-field DPS build, it is possible for HP% Circlets (with good substats) to be comparable to CRIT Circlets, especially if her weapon provides a large amount of CRIT, such as Harbinger of Dawn.
Energy Recharge for the most part should not be neglected, as her Burst improves the consistency of her Night Star generation. This in turn improves her Cryo application, particle generation, and uptime on Skill-damage based effects. However, in teams where Layla does not Burst, you can instead focus on getting more HP% stats for her shielding.
Pure Shielder Builds
Layla's most comfortable playstyle, where her primary role is to provide consistent shielding for the team. This build focuses on stacking HP% to maximize her Shield Absorption, often to the point that she can replace a dedicated healer. Her Burst improves her Cryo application and particle generation through consistent Night Star production.
This build is highly recommended in teams where Layla's shield is relied upon for survivability, such as when there are no healers in the team or on-field units are unable to dodge attacks frequently. It is also encouraged if Cryo Particles are highly needed by her teammates, as her Energy generation is cut short should the shield be destroyed.
Pure Shielder Weapons
Pure Shielder Artifacts
Assumptions: C6 Layla, Triple HP%, Favonius Sword, 140% ER requirement
Off-Field DPS Builds
This playstyle sacrifices some of Layla's shielding to improve her damage contribution, mainly through her Burst. In this build, Layla acts as an off-field Cryo DPS while still providing a decent amount of shielding and Interruption Resistance for her team. However, her off-field damage and AoE potential is noticeably lower than other Cryo units such as Rosaria or Kaeya. Note that it is generally preferable to use equipment that provide team buffs or extra utility over solely improving Layla's personal damage.
It is recommended to use this build when the team is less reliant on Layla's shield due to other forms of damage mitigation such as Freeze or healers, as it trades some of Layla's redundant defensive utility for additional team damage.
Off-Field DPS Weapons
Off-Field DPS Artifacts
Assumptions: C6 Layla, Favonius Sword, HP/Cryo/CRIT, 110% ER requirement, 100% Cryo Resonance uptime, 3 Volleys of Shooting Stars (12) + 8 Star Slugs
Mechanics
Cold, mine to command.
Shield Uptime
Layla's shield is the most valuable part of her kit, so knowing how to maximize its uptime is crucial to her performance. Since Layla's Skill has both a 12s shield duration and cooldown, it is theoretically possible to achieve near 100% shield uptime on Layla. Unfortunately, many of Layla's teams operate in 15 to 20s rotations, preventing her from recasting her Skill mid-rotation without desynchronizing it in further rotations.
This can be addressed in two ways: extending the rotation to 24s to accommodate 2 Skill uses, or simply accept 3-8s of shield downtime. Going for the former option is generally not advised as it leads to a significant DPS loss in most of her teams.
In teams with a dedicated on-field unit, such as Yoimiya or Ganyu, it is best to use Layla's Skill before swapping to them to maximize her shield uptime for said character; however, this leaves their teammates vulnerable. The alternative is to use her Skill earlier in the rotation, but this causes her shield to deactivate during the on-field unit's field time; this is less of an issue if the team uses 15s rotations, as there is only 3s of downtime.
If the team already operates on ~25s rotations, try to use Layla's shield on cooldown to maximize shield uptime, which allows her to protect the team near-permanently while also generating more Energy per rotation. Teams often default to 25s rotations when using consecutive 12s rotations (such as Tighnari teams with Fischl) or in "double-carry" setups like in Eula-Raiden teams.
Burst Usage
Even in a pure shielder build that forgoes personal damage, Layla's Burst is still helpful for applying Cryo and generating Night Stars, which in turn provide additional Cryo application, particle generation, and potential buffs; it is recommended to Burst before each Skill use when possible. Her Burst's low cost makes it relatively accessible without greatly sacrificing her Shield Absorption. This is especially true if a player does not own Key of Khaj-Nisut or Primordial Jade Cutter, as no other Swords (at the time of writing) provide any benefit to Layla's shield; in such cases, her next best options are ER% weapons that easily cover Energy requirements.
Regardless, prioritizing HP% for a stronger shield, even at the expense of Burst uptime, is still a valid option. This includes using her Burst every two Skill uses in teams with very high ER requirements, such as in Solo Cryo teams, which allows her to equip an HP% Sands and even a HP% weapon. Depending on player preferences, the added comfort can be more valuable than maintaining the utilities provided by her Burst.
In some cases however, it is more useful to not use her Burst at all. In a Melt Ganyu team, Layla's Burst's modest Cryo application can steal Melts from Ganyu's Frostflake Arrows, greatly reducing team damage. In Vapemelt teams, since Freeze does not leave a Cryo aura on Bosses but still removes Hydro aura, her Burst's Cryo application can be actively detrimental to the Pyro unit's reactions.
Generating Stars
Layla's Night Stars are needed to generate particles and trigger many weapon or artifact passives. There are 3 ways in which Night Stars can be generated: passive accumulation (1 per 1.5s), teammate Skill use (2 per Skill, every 0.3s), or Burst hit (1 per hit). Night Star generation is bottlenecked by the fact that each wave of Night Stars must be completely fired off (taking 1.5s) before a new wave can be generated.

In most team rotations, Layla generates 2-3 waves of Night Stars per Skill, depending on her teammates' Skill usage. Certain character Skills count as two "uses" and generate extra Night Stars; these include Yelan's Hold Skill, Fischl repositioning Oz, and Keqing's double-tapped Skill. It is not recommended to modify your team's rotation or composition just to generate more waves; simply treat them as a nice utility bonus.
Layla vs. Other Shielders
Stars, shine for me.
Layla vs. Diona
Layla's most obvious competitor is Diona, another Cryo shielder. Notably, Layla trades Diona's healing for much more durable shielding and better damage output.
Layla is generally the superior shielder for characters that desire Interruption Resistance; even with only one HP% artifact, her shield is still stronger than that of Diona equipping 3 HP% artifacts. Her ability to maintain the TotM buff and higher damage scalings also make her more offense-oriented.
Diona has a much weaker shield, but she provides healing on her Burst. This mitigates damage taken during her shield downtime in 15-20s rotations, something that Layla cannot do. Her particle generation is front-loaded and is not dependent on shield durability, unlike Layla.
Effective Shield HP Comparison
Assumptions:
• Talent 9/9(12)/9(12), 4 Stacks Layla A1, Diona's shield does not benefit from TotM 4pc effect.
• HP% weapon indicates Level 90 Key of Khaj-Nisut for Layla or Recurve Bow for Diona
Layla vs. Diona Effective Shield HP Comparison
Further Comparisons
Layla vs. Zhongli
Layla provides the second strongest shield in the game, only beaten by Zhongli. As both their shields can be cast without Energy and have good Shield Absorption, they fill similar roles despite their different Elements and mechanics. Layla is often the closest equivalent to Zhongli amongst 4-star shielders; this can be valuable if a player does not have him or is using him in the other Abyss team.
Zhongli is generally the preferred shielder, as his shield provides unparalleled protection and comfort thanks to its high scaling, long duration, short cooldown, and effectiveness against all damage types. He also offers potent offensive utility via his shield's Universal RES Shred. However, Layla's ability to apply Cryo and generate Cryo Particles while off-field give her unique advantages over Zhongli in teams that benefit from her Element.
Effective Shield HP Comparison
Assumptions:
• Talent 9/9(12)/9(12), 4 Stacks Layla A1, 5 Stacks Zhongli A1, Non-Cryo damage
• HP% weapon indicates Level 90 Key of Khaj-Nisut for Layla or Black Tassel for Zhongli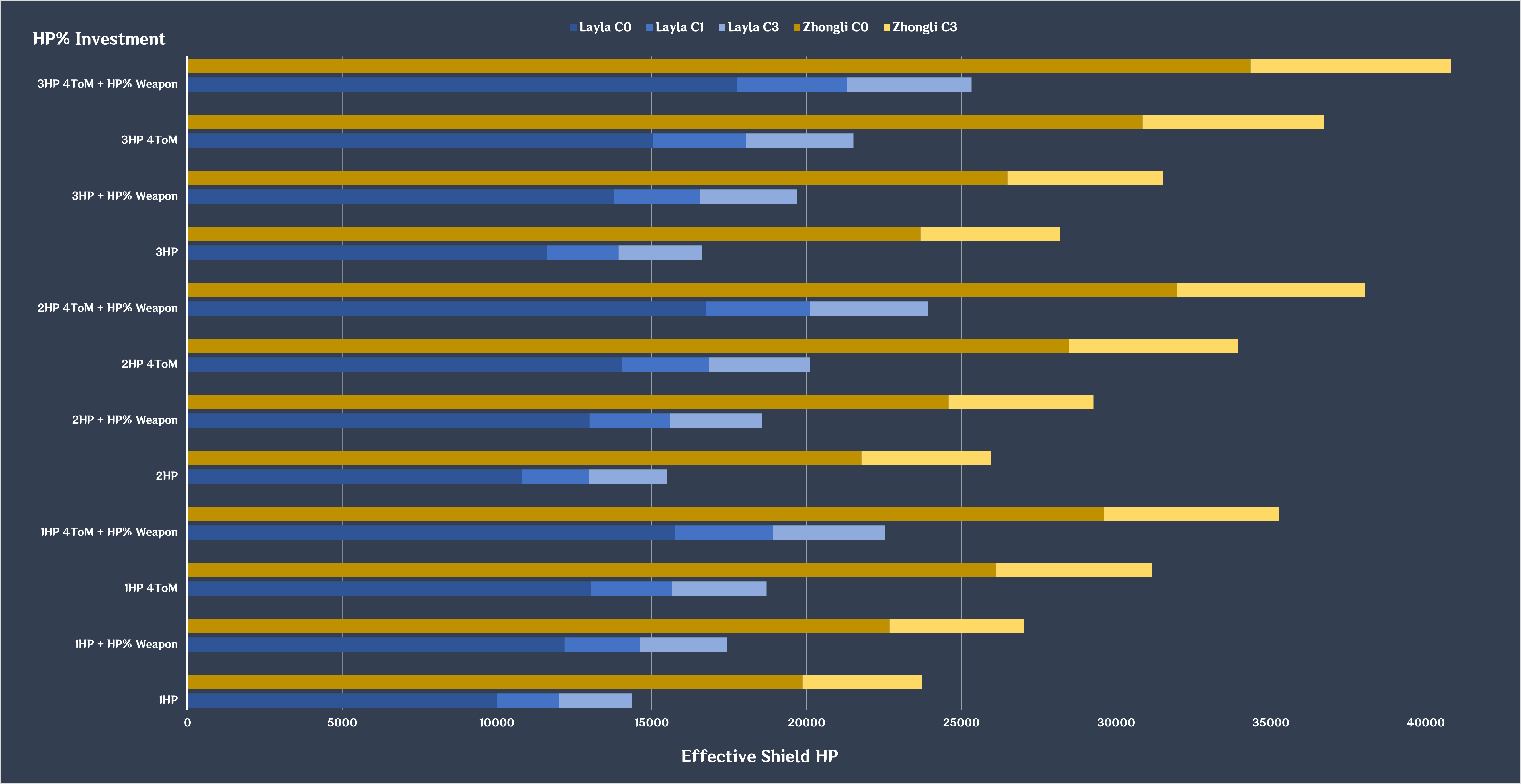 Layla vs. Zhongli Effective Shield HP Comparison
Further Comparisons
Teams
Even when we're not looking up at the stars, they're always there, watching over us.
Freeze
In a classic Freeze team, Layla brings survivability, enables Cryo Resonance, and generates Energy for a Cryo DPS. Ayaka and Ganyu generally fill the role of Cryo DPS due to their high damage output; teams with other Cryo units can still function but have lower damage ceilings. The rest of the team slots should be filled by a Hydro unit to maintain Freeze, and an Anemo unit to provide grouping and RES Shred via the Viridescent Venerer (VV) set.
Layla's inclusion comes at the cost of deploying another more damage-oriented Cryo unit such as Rosaria and Shenhe, who also provide buffs while contributing higher personal damage. Her shielding can be redundant for players who can keep enemies Frozen consistently, even more so if the team includes a healer.
Notable Freeze Teammates
Freeze Example Teams & Rotations
Ayaka D (first rotation) > Kazuha Q > Layla QE > Kazuha tEP > Mona QE > Ayaka D N1 E Q > Kazuha tEP (wait) > Ayaka D 2(N2C) E N2C
---
Ganyu Q > Venti EQ > Layla QE > Mona EQ > Ganyu CA > Venti E > Ganyu 2CA
Mono Cryo
Layla fits in well in Mono Cryo teams, which focus on dealing raw Cryo damage. They cater more towards content where Freeze is less advantageous, such as against Bosses. The abundance of Cryo Particles greatly alleviates Layla's ER requirements.
Many Mono Cryo teams allow for frequent swapping and Skill usage that make good use of Layla's 12s cooldowns while also firing her Night Stars consistently. The last team slot is ideally an Anemo unit to provide grouping and VV Shred, but a fourth Cryo unit can still function well.
In Shenhe teams, Layla is able to serve as an additional Cryo DPS while also consolidating good defensive utility. This frees up the remaining team slots to be filled in by more offensive Cryo or Anemo picks without sacrificing comfort.
Notable Mono Cryo Teammates
Mono Cryo Example Teams & Rotations
Ayaka D (first rotation) > Kazuha tEP Q > Shenhe tE N1Q > Layla Q N1E > Ayaka D E N1Q > Kazuha tE > Shenhe E > Ayaka D N2CD E N2C
---
Ganyu E > Shenhe Q tE > Kazuha tEP Q > Layla Q N1 E > Ganyu Q E CA > Shenhe N1 E > Kazuha tEP > Ganyu 2 CA
Vapemelt
Layla supplies Cryo application in Vaporize teams to Freeze enemies and occasionally allow a Pyro DPS to trigger Forward Melt for additional damage. It is not recommended to use Pyro DPS units that use Blunt Pyro attacks, as such attacks when used on Frozen enemies trigger Shatter first without triggering either Melt or Vaporize afterwards.
There are multiple options for the team's flex slot. Bennett is a natural choice for supporting Pyro DPS units, thanks to his massive Flat ATK buff, particle generation, and C6 Pyro DMG Bonus. A second Hydro unit allows for Hydro Resonance, which strengthens Layla's shield, and additional Hydro application. A second Cryo unit helps maintain both Cryo Resonance and Freeze uptime, which provides added comfort as well as a few more Melts.
Beware that against enemies immune to Freeze, such as Bosses, the Freeze reaction consumes Cryo and Hydro auras without any effect on the enemy. This prevents the Pyro unit from triggering either Melt or Vaporize, leading to a significant damage loss. Double Hydro teams circumvent this through their exceptional Hydro application, though it is recommended to avoid using Layla's Burst to ensure that Hydro aura is maintained.
Notable Vapemelt Teammates
Vapemelt Example Teams & Rotations
Simplified Rotation
Xingqiu Q N1 ED N1 > Yelan Q N1 E N1 > Layla Q N1 E N1 > Hu Tao Combo
Advanced Rotation
Layla QE > Xingqiu Q N1 > Yelan Q N1 > Xingqiu E N1 > Yelan E N1 > Hu Tao Combo > Yelan E N2 > Xingqiu N2
---
Yelan EQ N1 > Layla Q N1 E N1 > Bennett E N1 Q N1 > Yoimiya E 3N5D > Bennett E
Eula Teams
Layla can slot in as an important survivability option for Eula while also generating Cryo Particles, maintaining Cryo Resonance, and providing other buffs such as 4pc TotM. Eula's inability to pre-funnel particles is less of a concern, as Layla can generate Cryo Particles while Eula is on-field.
It is recommended to run a shield-focused build along with Favonius Sword, since Layla's shielding and particle generation are especially crucial for this team. In 24s or longer rotations, Layla's particle generation becomes especially potent as she can use her Skill, Burst, and Favonius Sword's passive twice.
Notable Eula Teammates
Eula Example Teams & Rotations
Raiden E > Eula E > Layla QE > Shenhe tEQ > Eula Q N4 hE N4 > Shenhe tEN1 > Layla QE > Raiden Q 3N4D N2
---
Fischl E/Q > Rosaria E > Eula E > Layla N1QE > Rosaria Q > Eula Q N4 hE N4 > Rosaria E > Eula N4
Melt Ganyu
Melt Ganyu typically desires a shielder for practical usage, as either dodging or getting staggered prevents her from unleashing her fully Charged Shots, which are the core of the team's damage output. If players do not have Zhongli, Layla acts as a substitute; she offers a strong shield which has a low cooldown, no ER requirements, and does not require Ganyu to perform Normal Attacks. However, her shield's Absorption, duration, and offensive utility are still inferior to Zhongli's shield.
Apart from shielding, Layla can provide offensive buffs such as 4pc TotM, Freedom-Sworn, and her C4; 4pc Instructor is also an option, but greatly weakens her shield. In Sunfire team variants where Ganyu uses her Burst, Layla's particle generation is also appreciated.
Layla's Burst can steal Melts from Ganyu, greatly reducing team damage. Even the minimal Cryo application on her Skill alone makes alternative Pyro application methods like Kazuha's Pyro-absorbed Burst or Burning inconsistent. It is recommended to forgo using Layla's Burst, and instead fully invest into her shield to ensure that it does not get destroyed during Ganyu's field time.
A more detailed explanation of Ganyu's Melt playstyle can be found here.
Reverse Melt Quickswap
Layla can work as an off-field DPS in Reverse Melt teams; she has a lower damage ceiling than other Cryo options but provides the comfort of a shield. These teams typically run both Bennett and Xiangling as a staple combination to sustain a Pyro aura. Bennett's healing also allows Layla to comfortably trade some of her Shield Absorption for offensive potential. Jean can work as an alternative to Xiangling, but greatly confines the area where the team can fight effectively.
As Layla does not deal much damage even with the occasional Melt, the last slot should be a Cryo DPS who can trigger Melt frequently. You should frequently swap characters to use low cooldown Skills for particle generation and damage.
Razor Teams
Layla provides steady Cryo application that follows Razor, triggering Superconduct to enhance his Physical damage output. Her shielding allows Razor to focus on completing his Normal Attack combos without being damaged or interrupted for most of his Burst uptime. However, Layla's 12s shield uptime either extends team rotations to 24s to use her Skill twice, or leaves at least 8s of the team rotation unshielded, which includes up to 3s of Razor's uptime.
Razor himself has fairly low ER requirements thanks to his Talents and Ascension Passives. The remaining two team slots are occupied by off-field damage dealers or buffers for a wide plethora of playstyles, such as Physical, Aggravate, Hyperbloom, or even hybrid builds. For a more in-depth look at his potential teams, refer here.
Hyperbloom & Burgeon
Layla can fill in the flex slot in Hyperbloom or Burgeon teams, providing defensive utility and certain benefits from her off-field Cryo application.
In these team archetypes, Layla does not contribute much personal damage, and is instead relied upon for her shielding if the team does not have healers like Kokomi or Kuki. She should equip a set that improves team damage, such as 4pc Instructor or 4pc Deepwood Memories. Freedom-Sworn and Key of Khaj-Nisut are potent picks for increasing the trigger unit's EM. Key of Khaj-Nisut, however, requires good timing to minimize her field time, as Layla must swap in before her Shooting Stars hit to trigger its passive; this is best done in teams without strict rotations.
She also maintains decent Freeze uptime especially in Hyperbloom teams, which controls enemy movement and indirectly mitigates damage. Freeze also aids Dendro Core generation through an interaction commonly known as "Fridge", where Hydro application on coexisting Cryo and Dendro auras triggers Frozen before Bloom. This interaction reduces the amount of Dendro aura consumed by Hydro application, which can allow for more Blooms to be triggered per Dendro application. However, this approach to building Bloom variant teams is generally not the most effective option.
General Shield Flex
With a decently strong shield that isn't reliant on Energy, Layla can be easily slotted into teams that simply need a shield for comfort, even if they do not care much for her Cryo application. Shields are especially useful for on-field DPS units that are vulnerable to disruption.
Note that it is often not possible to use her Skill twice per rotation, and her shield only has 12s of uptime. Shield uptime should be reserved for the team's on-field DPS, but this leaves other team members vulnerable.
Credits
Thanks for reading this far!
We greatly appreciate it, and hope that you enjoyed this guide and found it helpful.
If I don't end up staying at the Akademiya after graduation, I think I'll come travel the world with you. What do you think?
Written by:
Nikatosaurus#5639
Calculations by:
Nikatosaurus#5639, Sew#2409, and Athena#2444
Editing by:
idkanonymized#4166, acie#1290, an odd medium#6288, anticipaste#8704, and Reddraegon#0019
Theorycrafting Advice and Contributions by:
Sew#2409, Athena#2444, TWICE#9958, Reimu#1626, Rare Possum#0511, leah.#2212, and skylarke#0001
Transcription by:
irokei#6189
Infographics by:
ang tahimik#9252
Art Permissions Handled by:
Hypermaniac#2523, Casdela#5121, and koko#1111
Special thanks to Reens#9389 and Atomic#3770 for writing the initial draft of this guide.
Combined weapon images designed by Casdela#5121.
Team images courtesy of the KQM Team Portrait Generator.
References